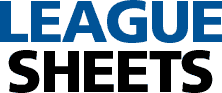 How it works
Players new to your league
With a simple form on your website, new players enter their information which goes directly into your database. The basic form asks new players to enter their name, age and contact information. Our software is flexible and can be customized to ask questions of new players that your league needs.
Examples of what your form might require from new players:
Enter information specific to your league
Sign your league waiver
Pay for registration fees
Attach digital copy of photo ID
We work to make sure your form asks the same questions that your paper/PDF form asks already.
Demo: Player registration (w/payment)
Re-registering your players
To get started, we will help you import your existing player information into LeagueSheets. Every player who has an email address will get a password they can use to log in and update/confirm their contact information. If your league collects fees, players can pay their registration fees with a credit card.
"I am very very pleased with how all has progressed.
Almost all [players] comments have been positive. Here's to a great 2015!!"
– Donn Moseley, Prescott (AZ) Senior Softball Association
Managers fill out their roster sheet
Team managers can log into with a password to fill out their team roster form for the new season. If they managed a team in the past they can easily make changes to their old roster. If your league charged team fees, the manager can pay with a credit card.
League directors set teams, schedules
Log in securely to access teams, managers, rosters and schedules