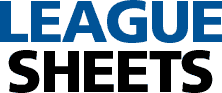 F.A.Q.
Frequently Asked Questions
How do I accept payments?
We use Stripe to handle credit card processing. Once you have an account on LeagueSheets.com you will get a link to connect with Stripe. On Stripe you will enter your organization and banking information to setup an account with them. Through Stripe you will authorize LeagueSheets to use your account to accept payments. The money your players pay will go directly to your Stripe account. No funds or financial information passes through or is stored by LeagueSheets. You control your Stripe account and you control when your money is transferred from Stripe to your checking account.